Sartell students take organic gardening trips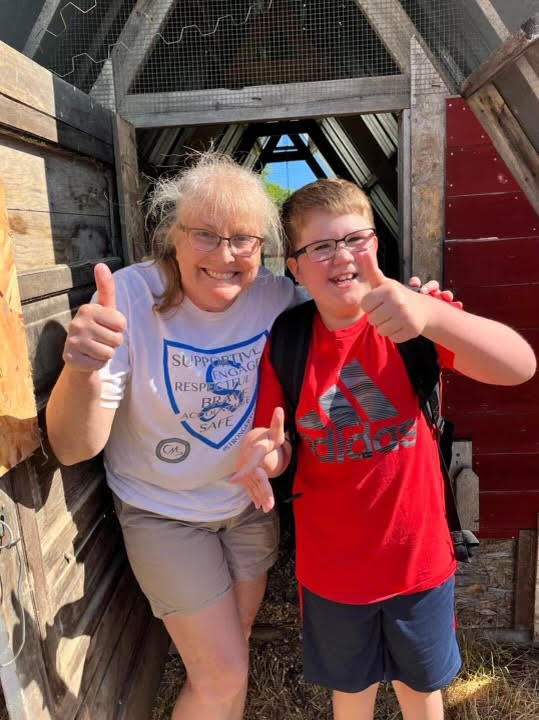 by Dennis Dalman
Kelly Haws enjoys certified organic gardening. She loves him as much as she enjoyed her 34 years as a special education teacher at Sartell-St. Stephen School District.
And that's why she decided to invite students from Sartell High School to summer school on her farm to experience organic gardening. This summer, they had fun growing a huge patch of zucchini and summer squash on Haws' 27-acre farm near Cold Spring and Rockville. They also had a lot of fun creating bouquets with the flowers from the farm.
Twenty-four students and eight school staff (professionals and paraprofessionals) made four trips to Bannockburn Farm, as it is called. A school bus brought the work group to the farm twice in June (for planting) and twice in August for weeding, watering and some harvesting.
"We (her and her husband) are open to ideas and really want to give back to the community," Haws said. "The Sartell-St. Stephen's School District has been such a great place for me to work for 34 years, we decided to invite students and staff to our farm so students could experience working in the fresh air at the farm.
And the students indeed had a wonderful experience, enjoying even the most difficult times – tilling the soil under the scorching sun.
Bannockburn Farm is owned by Haws and her husband, Dan Stark, a retired St. John's Prep social studies teacher who has also taught other electives. He was also the school's head boys' soccer coach and co-coach in Nordic skiing. Just recently, he agreed to mentor new teachers at prep school. In 2017, he was named "Coach of the Year" by the Minnesota High School Coaches' Association. Stark grew up on a hobby farm and, according to Haws, hobby farming has always been "in his blood."
Haws grew up in St. Cloud, the eldest of four children of the late Larry Haws, a St. Cloud legend, and his wife Faye. Larry Haws was for many years director of the St. Cloud Parks and Recreation Department, coached football, served as Stearns County Commissioner, and later as a St. Paul state legislator.
Haws and Stark lived in a house for many years, but one day in 2000 they fancied going to a farm near Cold Spring that was being auctioned off. They kept bidding on the farm, and suddenly no new bids came from the crowd.
"Dan and I realized then that we had bought the farm," Haws said. "I bought the farm. Literally."
It's not just students who love Bannockburn Farm. There are families working "family plots" of 10ft x 40ft each, and between the family plots are plots for community gardening, each 6ft x 40ft. Families registered for the plots through St. John's Prep School. These family and community plots that Haws and Stark started last summer. They wanted to share the rewards of organic gardening with others and teach people how it's done.
Haws' family and her mother have sold organic produce for 20 years at the St. Cloud Farmers' Market, from A to Z, including produce as well as eggs and meats like chicken and pork. 'lamb.
In 2007, Haws and Stark became "certified organic" producers through the United States Department of Agriculture. It was a very rigorous process that even required some type of organic soil and organic seeds, but they're glad they did it. Before that, they grew produce organically, but without all the rigid standards and requirements imposed by "certification".
For years, the two boys from Haw and Stark both worked hard to get everything ready for sales at farmers markets. But as they got older, they simply had too much of their own business to work on, and so the tasks at the farmers' market became a bit too much for Haws and his mother. That's when they decided to quit and focus on growing on the farm.
Environmental concerns are what led Haws and her husband to grow organic produce, free of herbicides and pesticides.
"We want a safe world for our sons and for everyone," Haws said. "It's a way of being environmentally friendly.
Stark and Haw's two sons are Connor Stark Haws, 28, who is a speech pathologist for the Robbinsdale School District; and Kevin Stark Haws, a biology student and soccer player at St. John's University.
Kelly Haws graduated from Cathedral High School in St. Cloud, then earned an M.A. and Ph.D. in Educational Leadership and Administration from St. Cloud State University where she completed her dissertation on the topic of dyslexia. Dyslexia is a general term for a person who has difficulty learning to read or interpret words, letters, and symbols, but the condition does not affect that person's general intelligence.
Although now retired after 34 years as a special education teacher at Sartell-St. Stephen School District, Haws still works part-time as a dyslexia specialist in the reading program at Stride Academy in St. Cloud.