Green Goo partners with PARSA to develop sustainable herb garden initiative in Afghanistan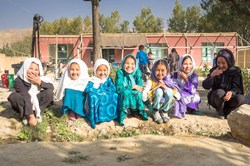 The Green Goo Partnership is creating a program where Afghan women can support themselves and their children through a cottage industry and products that can be made at home.
LYON, Colorado (PRWEB)
December 02, 2020
All-natural body care brand Green goo, under parent company Sierra Sage Herbs, recently partnered with PARSA (Physiotherapy and Rehabilitation Support for Afghanistan) develop a sustainable herb garden program to promote vocational training and economic opportunities for members of PARSA's healthy Afghan women support groups as part of its Afghan business network.
In tandem with the professional PARSA staff, Green Goo will provide guidance, resources and training to members of the support group, who will then cultivate a selection of herbs that can be used to produce clean, natural body care products. The products, which will be formulated by Green Goo Co-Founder and Director of Product Development Jen Scott to fit the Afghan context, will be simple to produce and will only require locally available resources. Suggested starter products include healing first aid, dry skin, and pain relief balms. Members of the PARSA support group will be trained in the cultivation, dry processing and storage of herbs, in addition to learning how to produce and package the respective products. They will then be taught basic entrepreneurship, in which women can sell products locally, reinvest their earnings to develop their small businesses and earn income for their families. PARSA intends to start the program as a pilot with a support group based at their headquarters in Marastoon, Kabul.
"The idea of ​​introducing a sustainable herb garden model to communities, especially women, in developing countries is a concept that we have been developing for most of the last decade," Jodi said. Scott, co-founder and CEO of Green Goo. "We feel incredibly lucky to have found a partner in PARSA who can help us make this dream come true. We have seen the extraordinary healing qualities of herbs in our own products, and being able to share this insight and ingenuity with PARSA beneficiaries, and empower them to take these ideas to create economic opportunities for their families, is especially important. "
As part of the Green Goo partnership with PARSA, Jodi Scott has been appointed to the philanthropic organization's international board of directors, where she will also be an advisor for their Trade Afghan Business Network, a mentorship program created in 2013 in response to women. in Afghan communities who have asked for help to develop and find markets for their products.
"The Green Goo Partnership is creating a program where Afghan women can support themselves and their children through a cottage industry and products that can be made at home," noted PARSA Executive Director Marnie Gustavson. . "This is particularly important in the current historical context of Afghanistan where women's rights to economic access are becoming increasingly uncertain due to the Taliban's re-incursion into Afghan communities and the subsequent increase in violence. with regard to women. This project will provide a secure network for women entrepreneurs to earn a living, survive the instability of current political conflicts, and continue to have their voices heard in their future. "
Green Goo plans to make an annual financial contribution to PARSA to support the herb garden initiative and various other programs. For the month of December 2020, Green Goo will also donate a percentage of its hand sanitizer sales to the organization.
###
Media contact:

Shea Martin, Vice President of Public Relations

[email protected]

Phone. : 917-903-2795
http://www.greengoo.com

Facebook / Instagram / Twitter – @greengoohelps

#PlantsWithPurpose #SpreadGoodness
About Green Goo

Established in 2008, Green Goo is a B-Corp family business owned by women. Our products are cruelty-free and made in the USA with 100% natural ingredients. We started small, making products for friends, family and the local farmer's market, and have now grown into a thriving, value-driven business. As we evolve, we remain committed to our roots: an age-old brewing process, high-quality ingredients, and simple, effective products that are safe for you, your family, and the environment. Visit Green goo to learn more.
About PARSA

PARSA, a 501 (c) (3) international non-profit organization, trains and develops professional Afghan leaders who care for women, youth, poor families and disabled citizens of Afghanistan by delivering innovative programs that have the greatest impact on these communities. They strongly believe in empowering visionaries who want to bring about positive change and their organic approach has allowed them to be very creative in program development. PARSA has worked at the highest level in Afghan communities since 1996, constantly evolving over the years to meet the changing needs of the people they support. Visit BY ITS to learn more.

Share the article on social media or by email: