Fundraising by Conny Cooper: Repair Moongate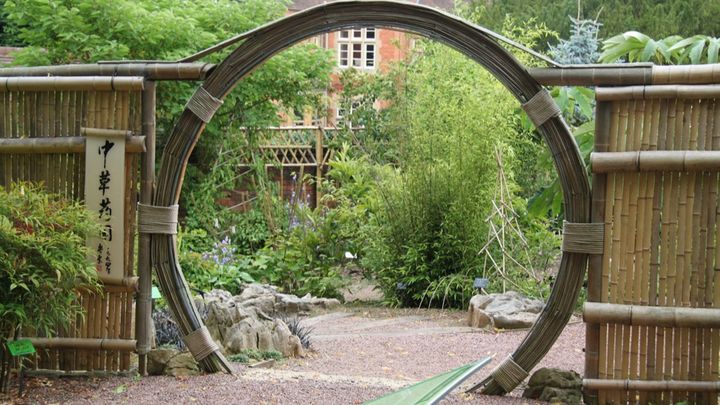 The Register of Chinese Herbal Medicine (RCHM) is seeking to raise £1,900 to fix the moongate at the Bristol Chinese Herb Garden. Please help us if you can!
Bristol Chinese Herbal Garden Background
Founded in 2000 by longtime RCHM member Tony Harrison, the Bristol Chinese
Herb Garden
is inside the University of Bristol Botanic Garden. Created through a partnership between the Botanical
Garden
and the RCHM, it aims to provide a comprehensive living collection of medicinal plants used in Chinese medicine, as well as to offer its 30,000 annual visitors the chance to enjoy an environment close to nature. a Chinese pleasure garden. . Based on the classical gardens of the Suzhou region of China, it uses rocks, symbolic plantings and Chinese garden structures, which include the remarkable Circular Moon Gate, to compose views and encourage contemplation. Videos co-produced by RCHM featuring information from BCHG, including its peony garden and tea plantation, are available here.
Comprising over 180 species, the RCHM Chinese Herb Garden collection is used to teach dispensary and pharmacognosy to undergraduate students of Chinese herbal medicine in the UK and Ireland, and by qualified herbalists as part of continuing professional development. . Another important means of cultural exchange, the development of the Garden (unique in Europe) has been favored by its attachment to several university and botanical gardens in China.
Another valuable function of the RCHM Chinese Herb Garden is to help with conservation. As an organization, RCHM is very aware that certain plants are endangered in nature due to their popularity as ingredients in herbal medicine. The RCHM aims to help reduce pressure on endangered grass species by using the Garden's collection to raise awareness, in the ultimate hope of broadening understanding of possible alternatives.
Moongate repairs
The Moongate entrance was built in 2000 when the RCHM and Bristol University Botanic Garden initially became partners in creating this unique collection of Chinese herbal medicines. It is an iconic element of the garden and offers visitors a lived experience of entering a garden steeped in Chinese culture.
The existing moongate is constructed of bamboo, which after more than 20 years of existence is slowly dying. To reinvigorate the moongate, the RCHM and the University of Bristol plan to upgrade the material used to solid oak to ensure a long life of the moongate. The material would match the window built as a memorial to Emma Farrant and provide a thematic thread through the garden.
RCHM received a quote of £3,800 for this work and, as partners, RCHM and the University agreed to fund half each. We are seeking to raise £1900 – and are proud to be the ones preserving the entry of this great treasure to be passed on to future generations of herbalists and botanists.
Any funds received above this amount will be used to support other projects within the Bristol Chinese Herb Garden. Thank you very much for your support.