10 herbs to grow indoors all year round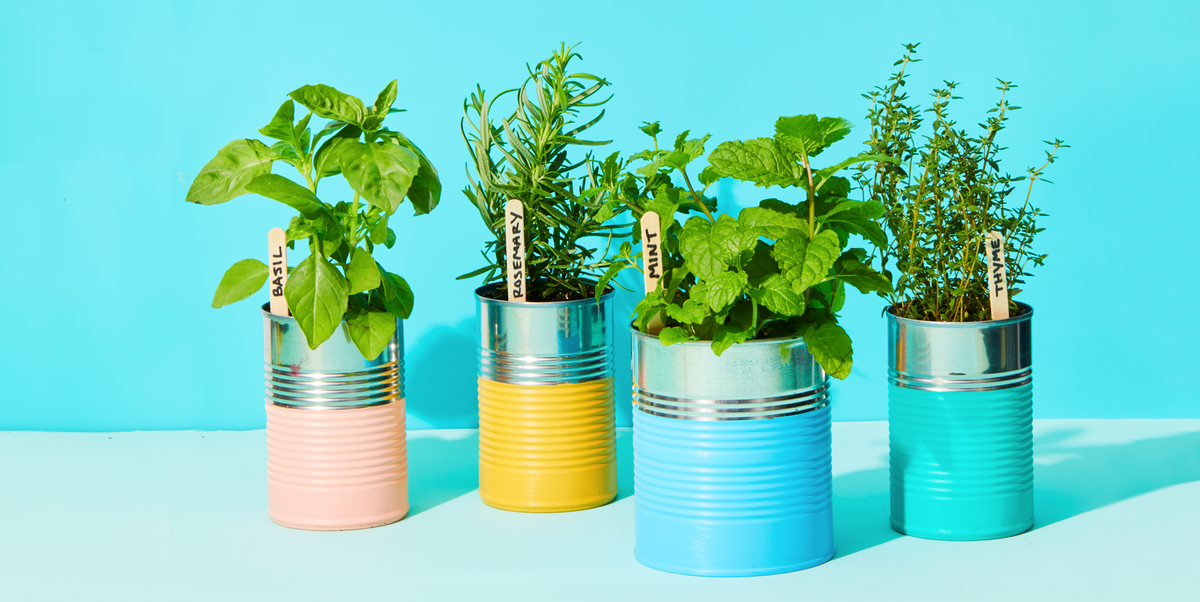 A sunny windowsill is all you need to grow the vegetable garden of your dreams. Many of your favorite herbs like parsley, basil, and thyme will thrive indoors with the right care. Maintain harvest season all winter long and flavor your soups, vegetables, roasts and more with an endless supply of freshly picked leaves.
Get all the details on the best way to start, maintain, and use your indoor herb garden below with 10 great varieties of plants for indoor maintenance. With the right amount of water and sun, you can skip weeding and go straight to harvesting.
How to grow herbs
As a general rule, place your herbs in an area that receives at least six hours of sunlight per day. To test the strength of the sun, Bonnie Plants Suggest turning off all lights on a sunny or partially sunny day, and periodically checking the natural sunlight.
In addition to sunlight, all herbs should be planted in well-drained pots. If you are concerned that the drainage holes will damage your table or window sill, use a saucer or liner to collect excess water. For more details on watering and sun exposure, follow this guide.
---
Basil
Start the basil from seeds and place the jars in a south-facing window; it likes lots of sun and heat as well as lots of water, so keep the soil moist but not soaking wet. Pinch off the tops of the plant frequently to promote fuller growth.
Add your fresh basil to pizza and pasta sauces, ratatouille, salads and more. Puree the extra leaves with a little water, then pour the puree into an ice cube tray and freeze for the user later in sauces, soups and pesto.
---
the Bay
Bay laurel is a perennial that does best using the container gardening method. Place the pot in an east or west facing window, as it prefers full or partial sun. Thin out the plant if it starts to get crowded. Bay needs air circulation to stay healthy.
Use bay leaves to flavor stews, soups, and sauces – or try making a fragrant, fragrant wreath with extra sprigs.
---
Chervil
Chervil is a delicate annual and a favorite flavor of French cuisine, hence its nickname "French parsley". Start chervil seeds in spring or late summer. It prefers partial light but needs temperatures between 65 degrees and 70 degrees to thrive. Like basil, chervil will become fuller if you pinch the stems every now and then.
Add the leaves to soups, fish, vegetables and poultry. You can also use it to make your own herb butter.
---
Chive
This onion herb does quite well in a container in full sun. If you already have one in your garden, you can move it indoors at the end of the growing season. Dig up a clump of your grass bed and replant it in a pot. Leave the pot outside until the leaves die off. At the start of winter, move the pot to your cooler indoor location (like your basement) for a few days. Then place it in your brightest window.
Chop the leaves and sprinkle them in soups and salads or on eggs or baked potatoes. Even purple flowers are edible and make great garnishes.
---
Oregano
Like other ground cover plants, this Mediterranean grass grows low and has a tendency to spread. Your best bet is to start with a tip that has been cut from an outdoor oregano plant. Once you've planted this tip in a pot, place it in a south-facing window.
Take it easy on the watering – oregano doesn't need as much as other herbs, so wait until the soil is dry to the touch. Regular pruning will keep your plant healthy and full.
---
Parsley
Avoid wilted bunches at the grocery store and grow your own parsley at home instead. Start from seeds or dig up a clump from your garden at the end of the season. Parsley likes full sun, but will grow slowly in an east or west facing window.
Choose the flat leaf variety for baking and the curly variety for lovely toppings on potatoes, rice, fish, lamb, steak and more.
---
Rosemary
Start with a rosemary cutting and keep it in a humid place above-ground mixture until it takes root. It grows best in a south facing window with good drainage. Prune regularly (up to a third of the plant) and dry the extra stems to flavor stews and winter soups.
Expect your kitchen to smell fresh throughout the cooler seasons thanks to the pungent scent of this herb – it acts as a natural air freshener!
---
sage
Take a tip that was cut from an outdoor plant to start a house sage plant. It tolerates dry, indoor air well, but it needs strong sunlight from a south-facing window. You will be rewarded with beautiful silvery foliage and a pleasant aroma.
Add your homemade sage to poultry, pork or sausage dishes, not to mention your turkey and Thanksgiving stuffing.
---
Tarragon
A period of dormancy in late fall or early winter is essential for tarragon to grow indoors. Pot a mature plant from your outdoor garden and leave it outside until the leaves die off. Bring it to your coolest indoor spot for a few days, then place it in a south-facing window for as much sunlight as possible. Feed well with a liquid fertilizer.
Finely chop the leaves before adding them to salad dressings, eggs, sauces or meat. You will get a flavor similar to anise or fennel.
---
Thyme
You can start thyme indoors by rooting a soft tip that has been cut from an outdoor plant or by digging up and repotting everything. Thyme likes full sun but will grow in an east or west facing window. Keep the soil moist and harvest the strands as needed.
To dry the thyme leaves, cut the stems whole and tie them into bunches. Hang in a dry and ventilated place out of direct sunlight. Add fresh or dried leaves to roasts, sauces, soups, dressings and more, or infuse them in honey or vinegar.
This content is created and maintained by a third party, and uploaded to this page to help users provide their email addresses. You may be able to find more information about this and other similar content on piano.io